I have just acquired this fabulous reed valve adapter block and diaphragm carburettor that allows fitment of a  Walbro style carby onto the Rock Solid Engines reed valve intake. RSE has designed the throttle linkage to use the standard throttle cable, making it a plug and play system.
The kit can be purchased through Rock Solid Engines and is available with the option of a smaller sized diaphragm carburettor or a larger sized diaphragm carburettor.
If you have a standard Rock Solid Engines reed valve intake, you'll need to removed the intake tube from the reed valve and replace it with the supplied diaphragm carburettor reed valve adapter block; using the same screws that were removed for disassembly.
The new diaphragm carburettor assembly will be supplied with longer throttle post and cable post mounts; deleting the need to modify the air filter and clamp.
To make the carburettor work as it was designed, it will need a crankcase pulse signal. This is easy to achieve by drilling a 3mm hole in the left hand side transfer port tunnel and tapping an M4 thread to receive an M4 bolt (16mm in length) with a 2mm hole drilled through the centre, as shown in the photos. Don't do what i have done and completely remove the lip from the button head capscrew. It's best to leave a 1mm lip on the button head to give the rubber hose something to bite into.
This web link details how a diaphragm carburettor works:  
http://www.helifreak.com/showthread.php?t=326599
and a more in depth and technical version here:
http://nkn.com/nationalkartnews/articles/AnatomyOfWalbro0708.pdf
Photos show the order of installation



Transfer port tunnel modification to pick up crankcase signal for diaphragm carburettor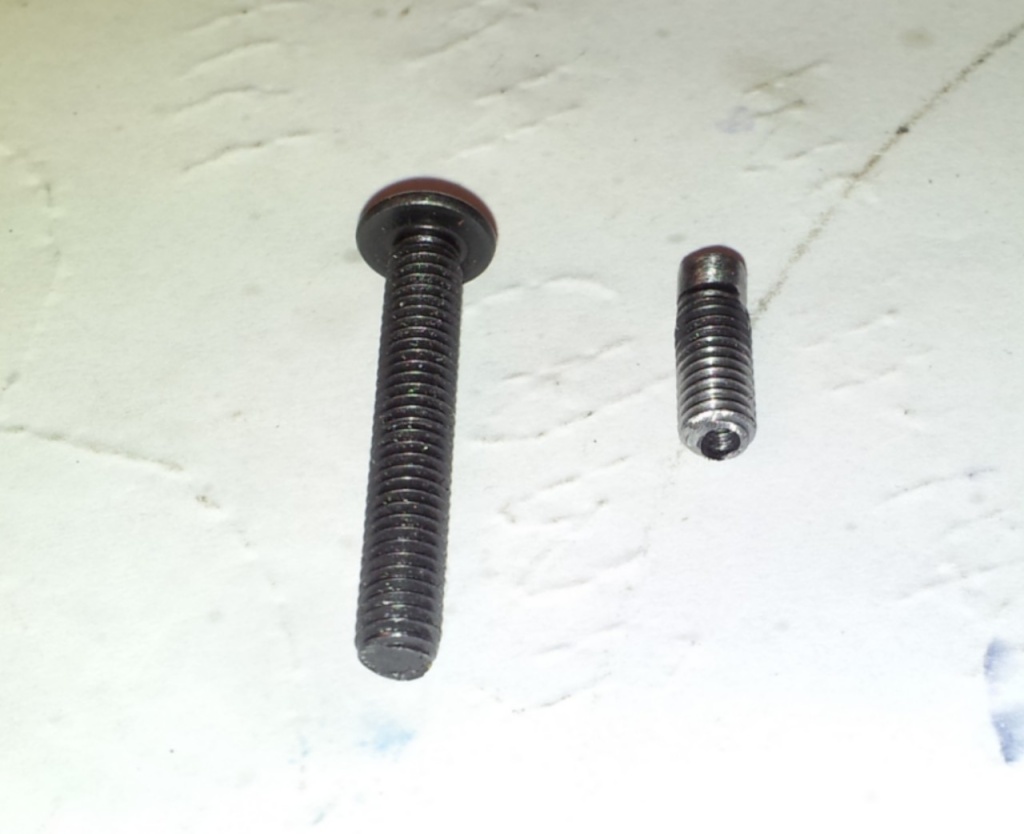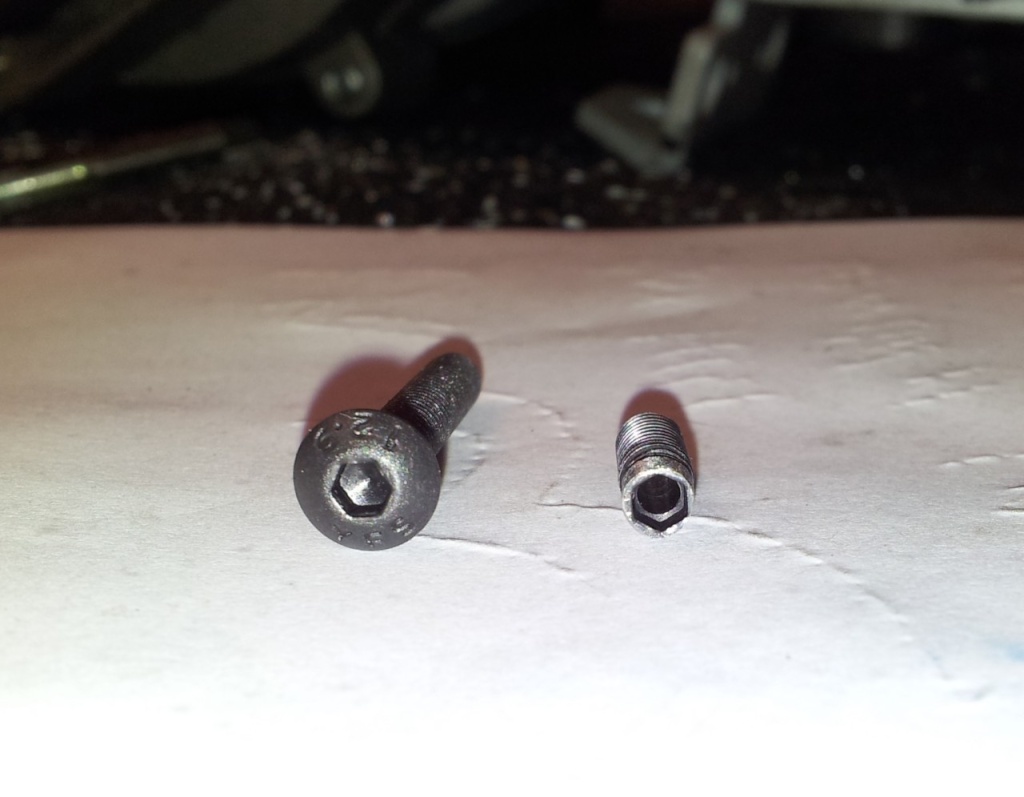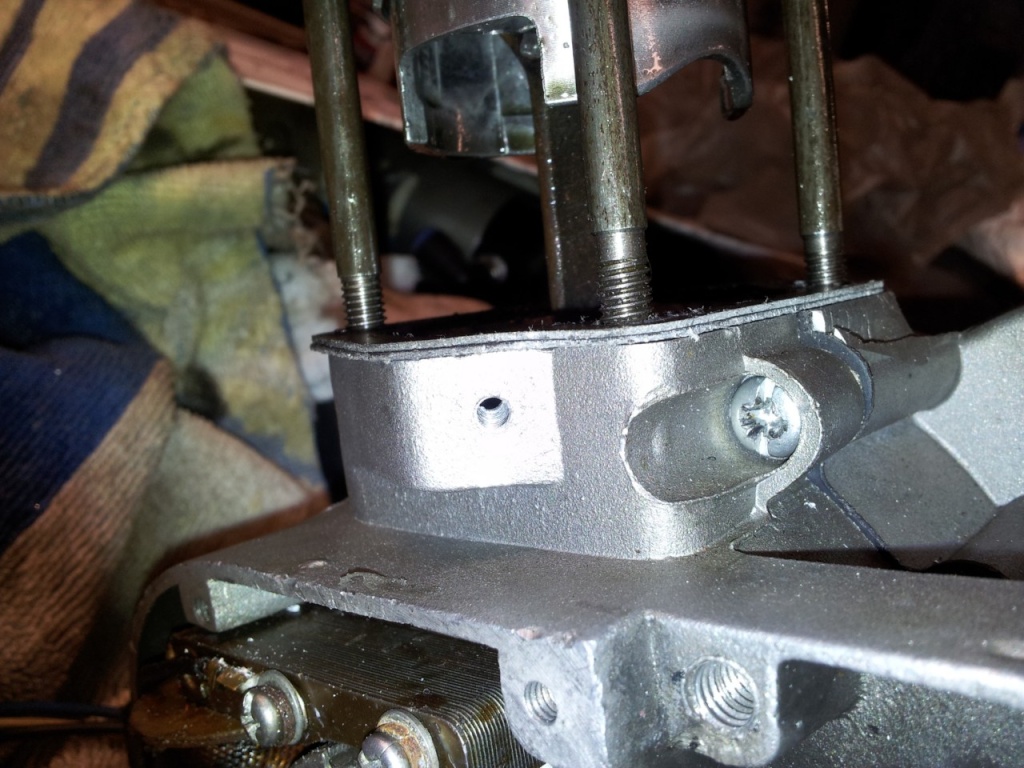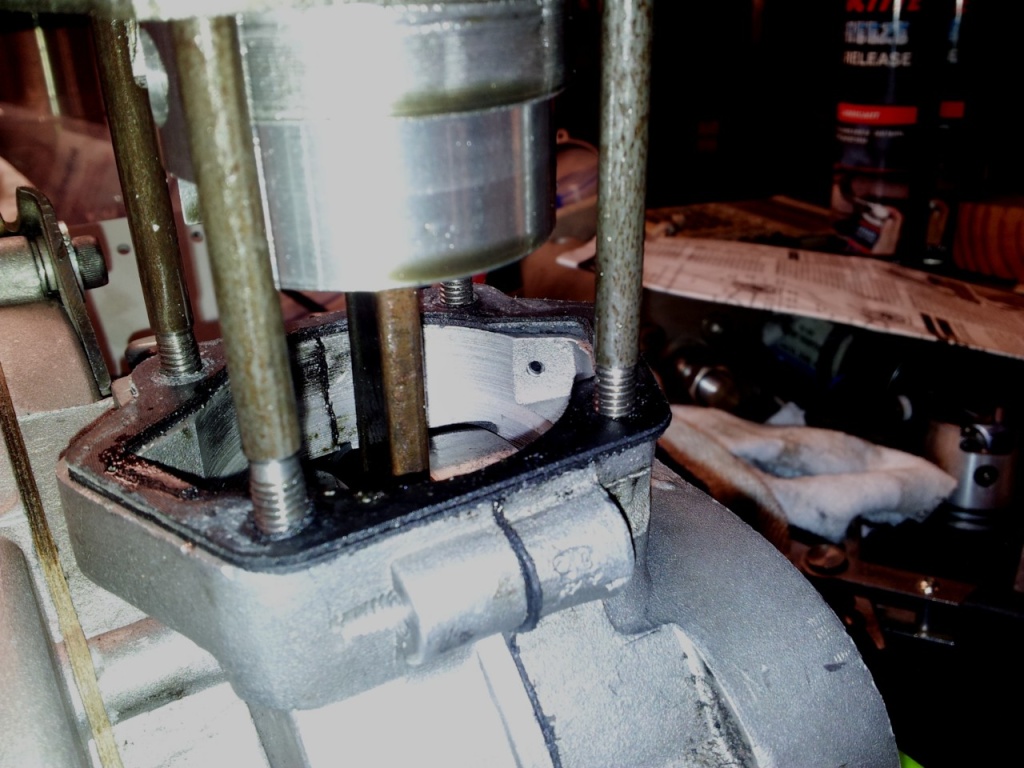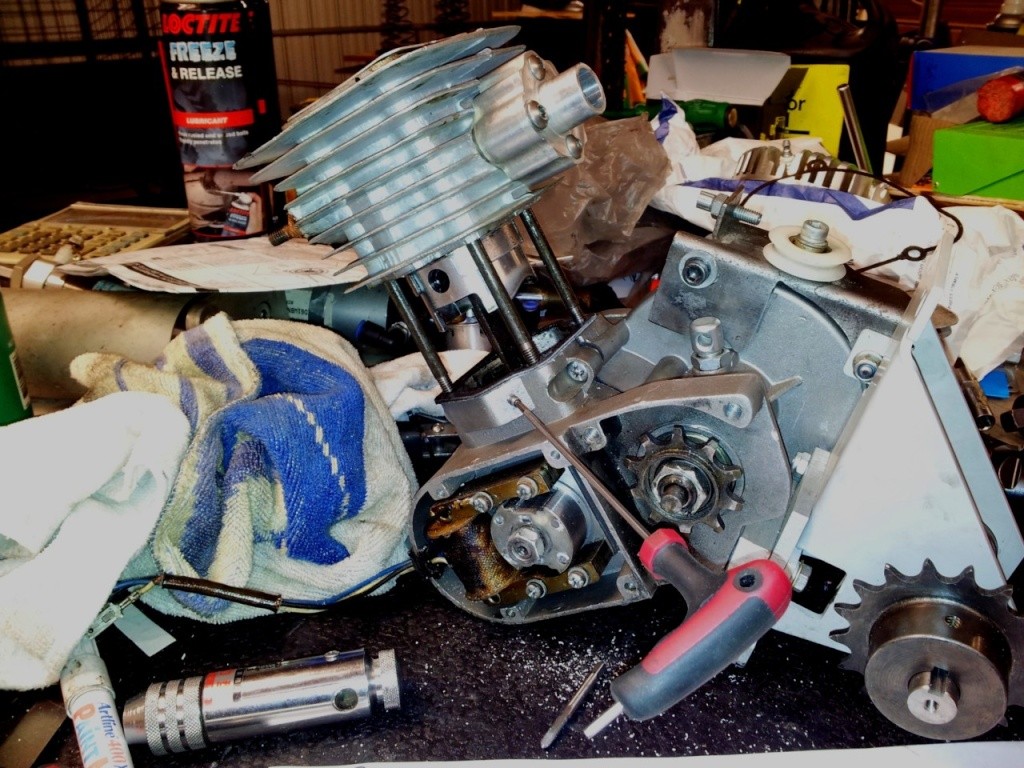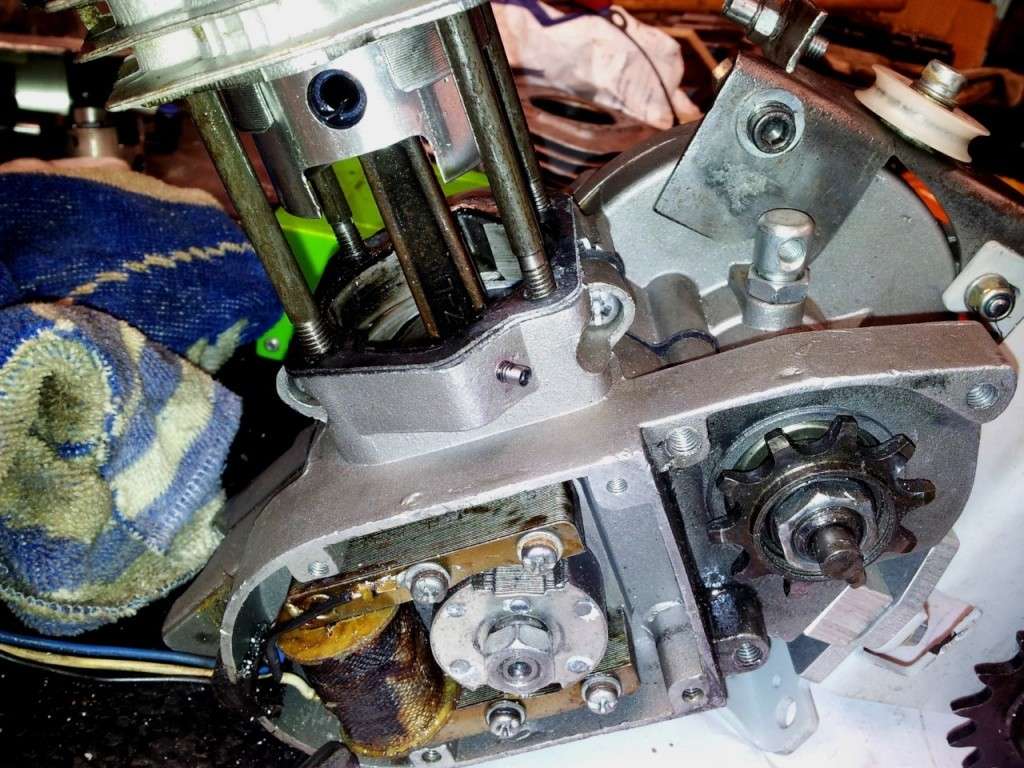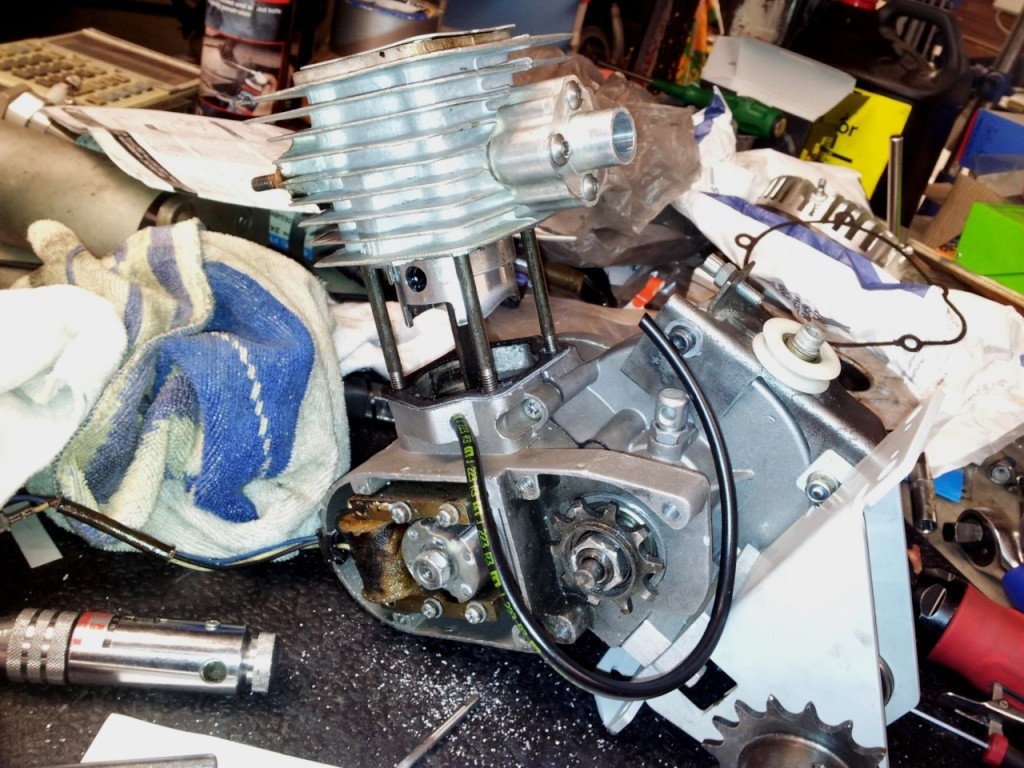 Diaphragm Carburettor Installation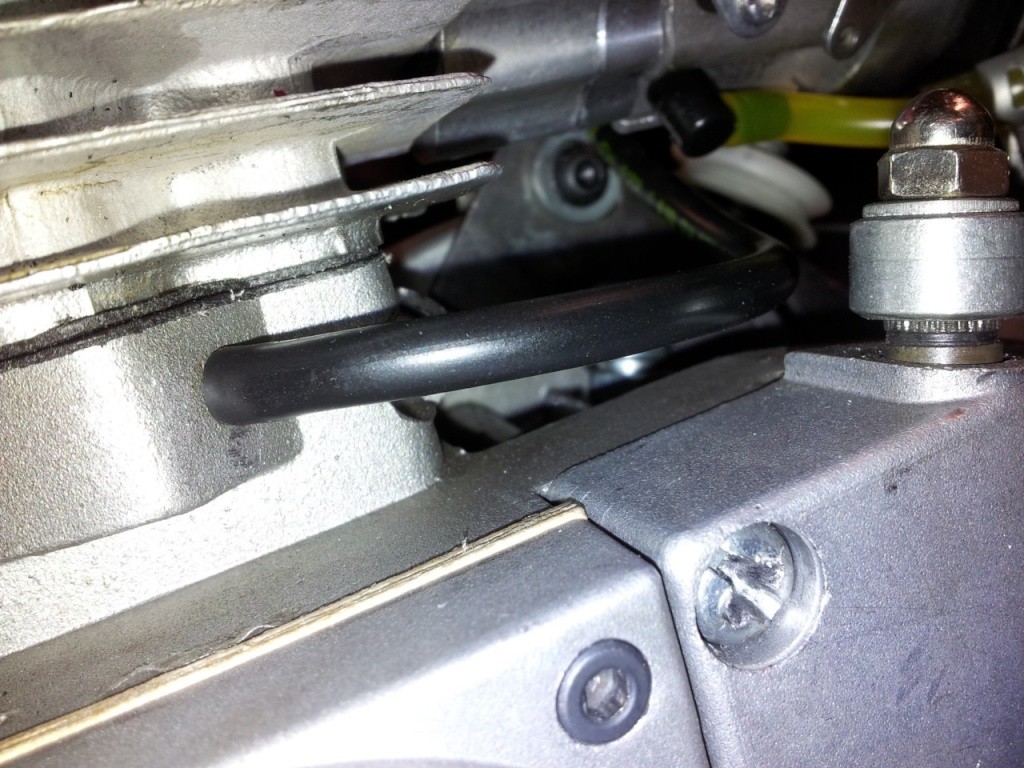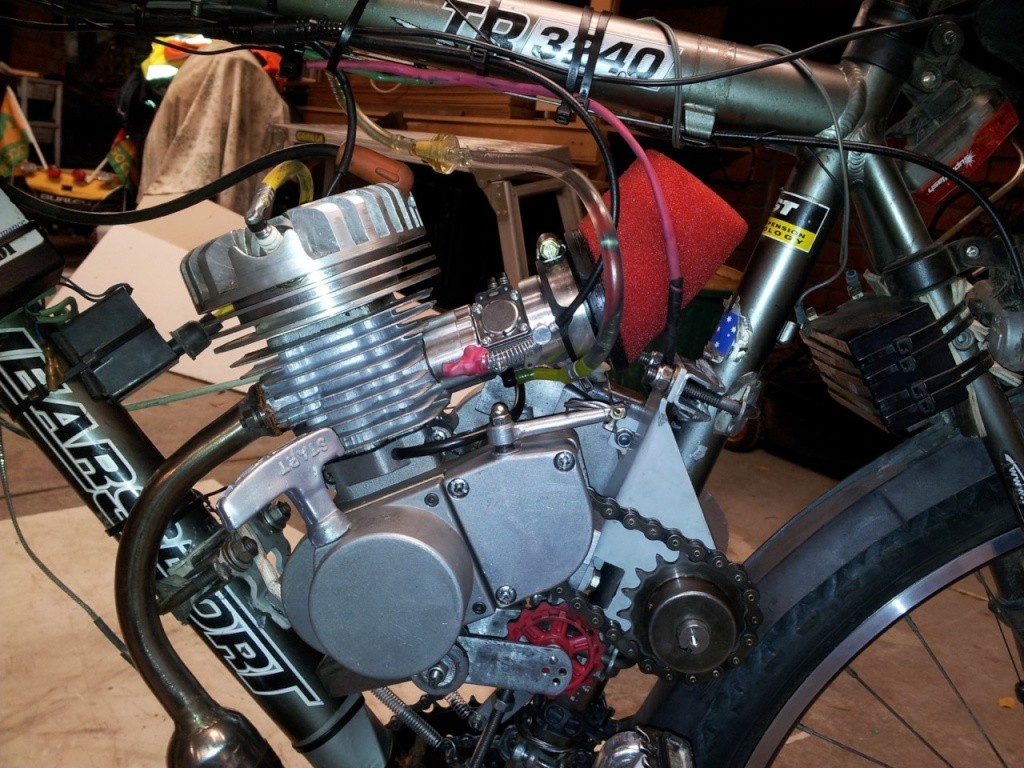 If you are having issues with excessive throttle cable slack upon installation of the R.S.E. Walbro Style (diaphragm) carburettor, a simple solution exists as detailed in the link:
http://motorizedbikeforum.forumotion.com/t387-cable-slack-eliminator#697
Thermal Isolation Spacer
Rock Solid Engines has released a thermal isolation spacer for those who may be suffering from fuel vaporisation problems when installing a Walbro style (diaphragm) carburettor.
Because the thermal isolation spacer (white plastic part shown in the photos) adds extra length, you will need to either use longer screws or convert the reed valve adapter block to a stud setup, as depicted in the pictorial below.
It is important to lightly chamfer the studs to allow maximum purchase when they are screwed in place (and with use of thread locking compound, equivalent to Loctite 243) so as to give anti-rotation properties if the nuts need to be undone.
I used what was available and it worked out nicely that the front engine mount studs happened to be 75mm, which leaves 5mm of thread showing after installing the Nyloc nuts with a flat washer and spring washer.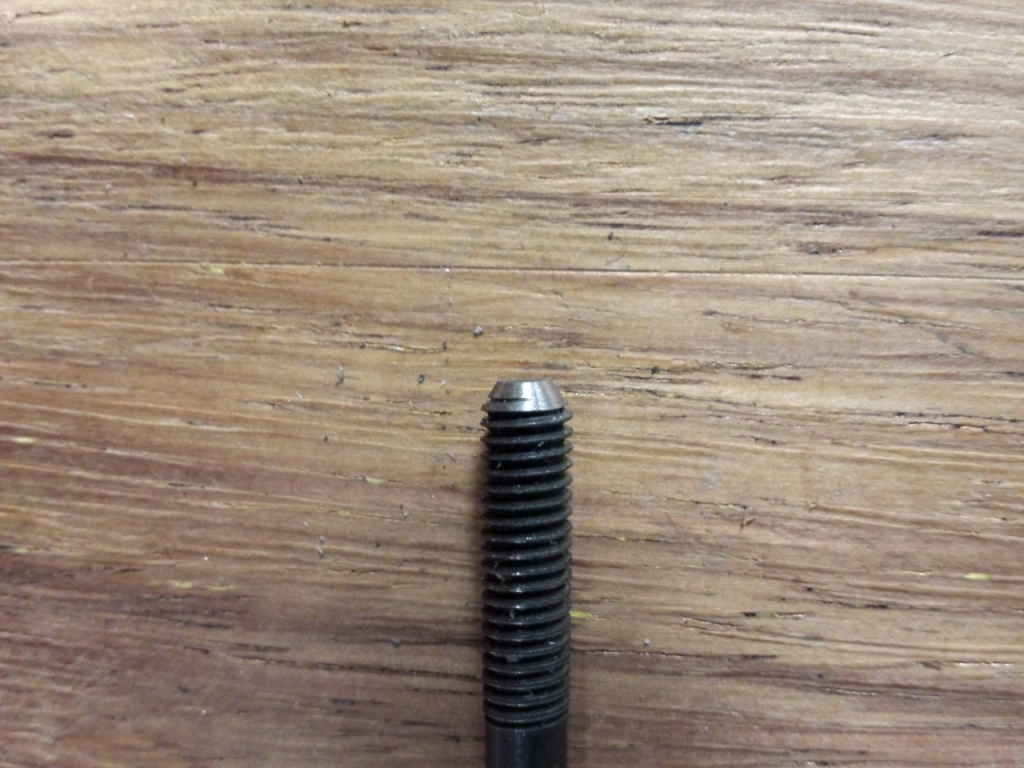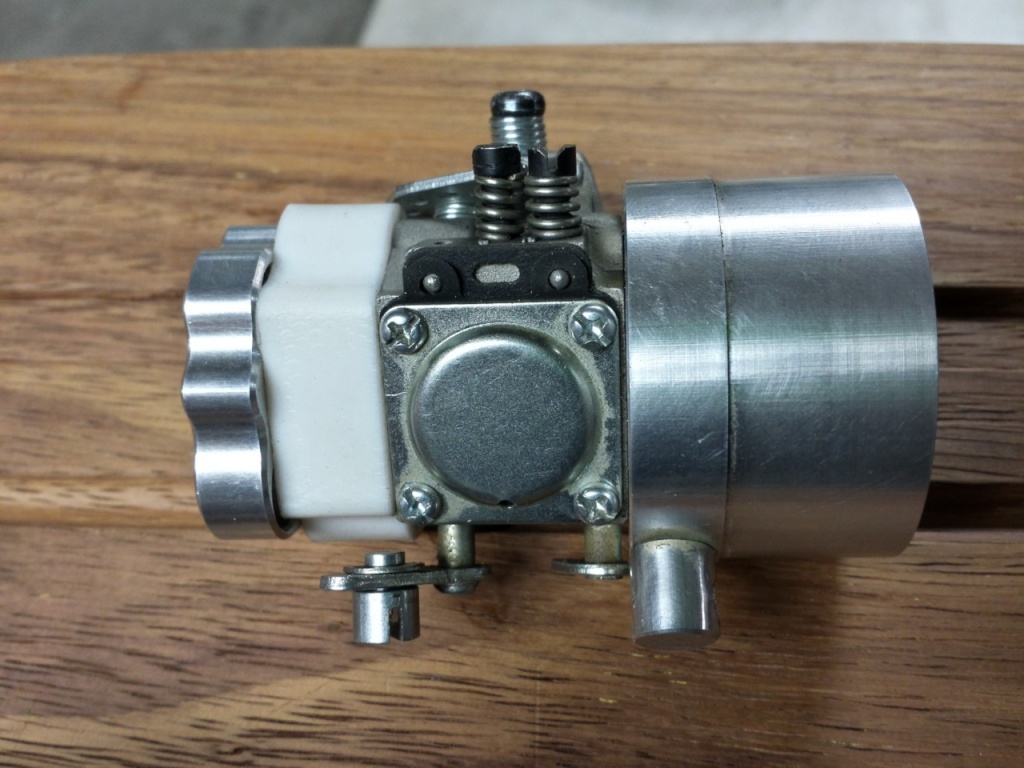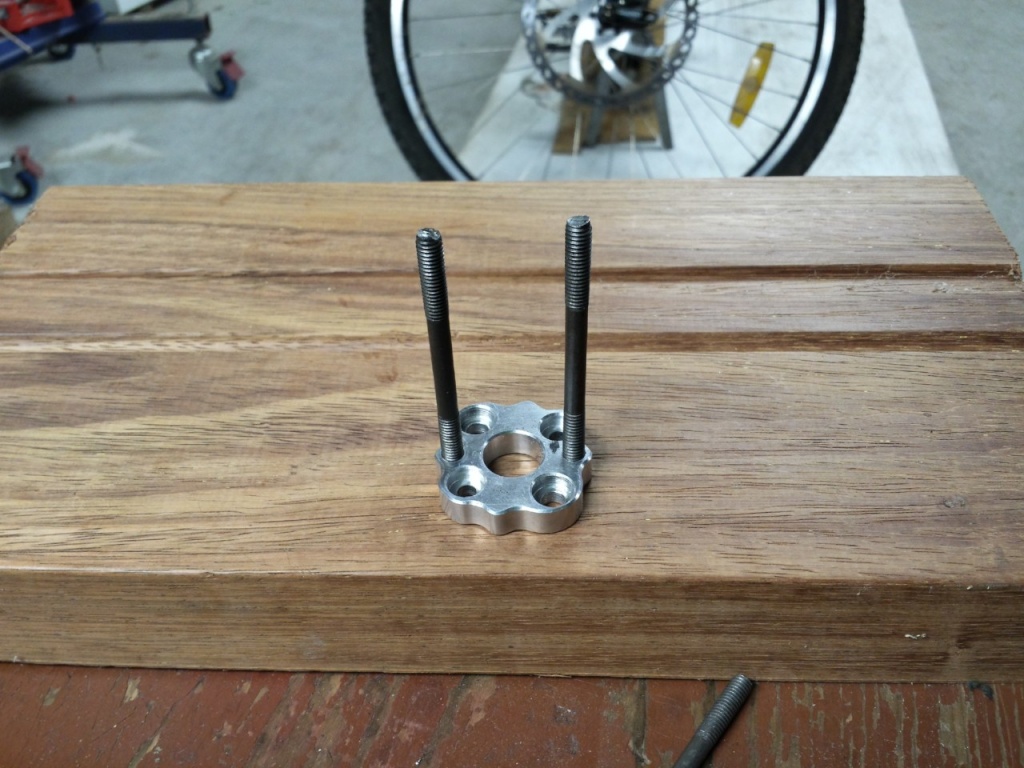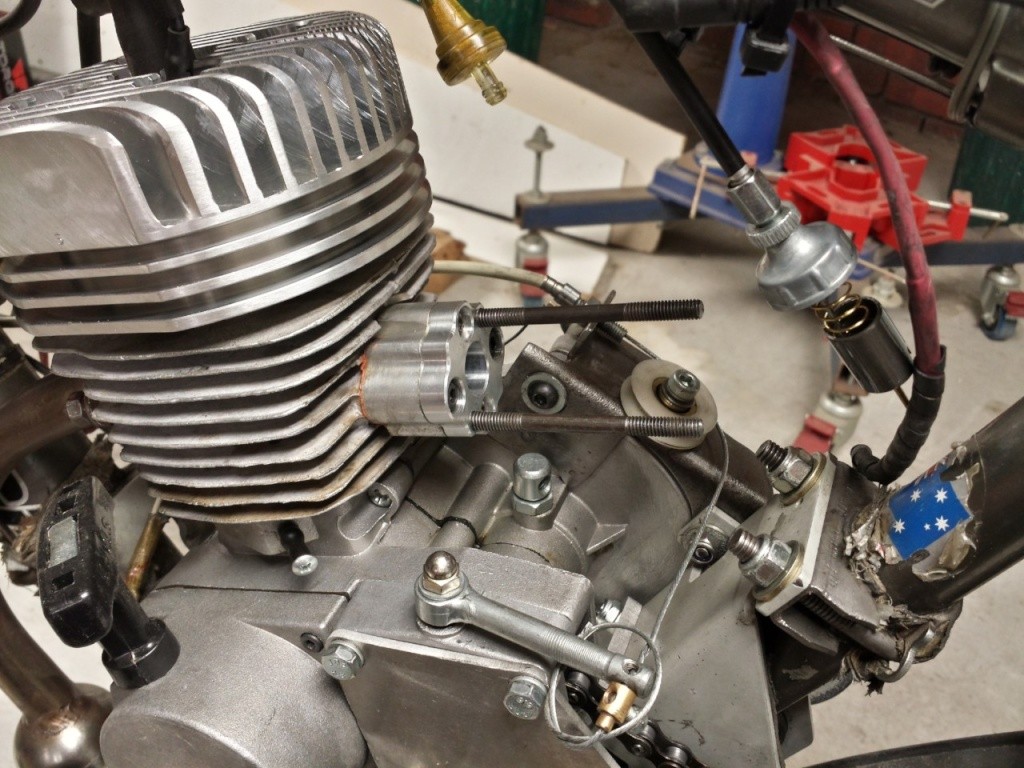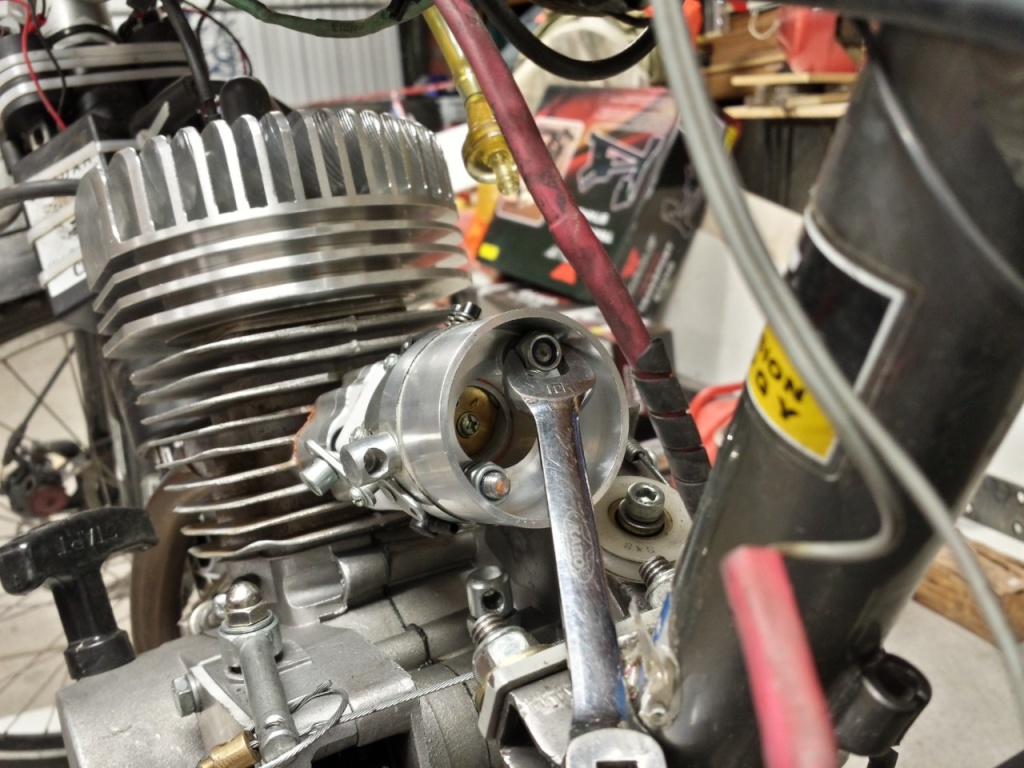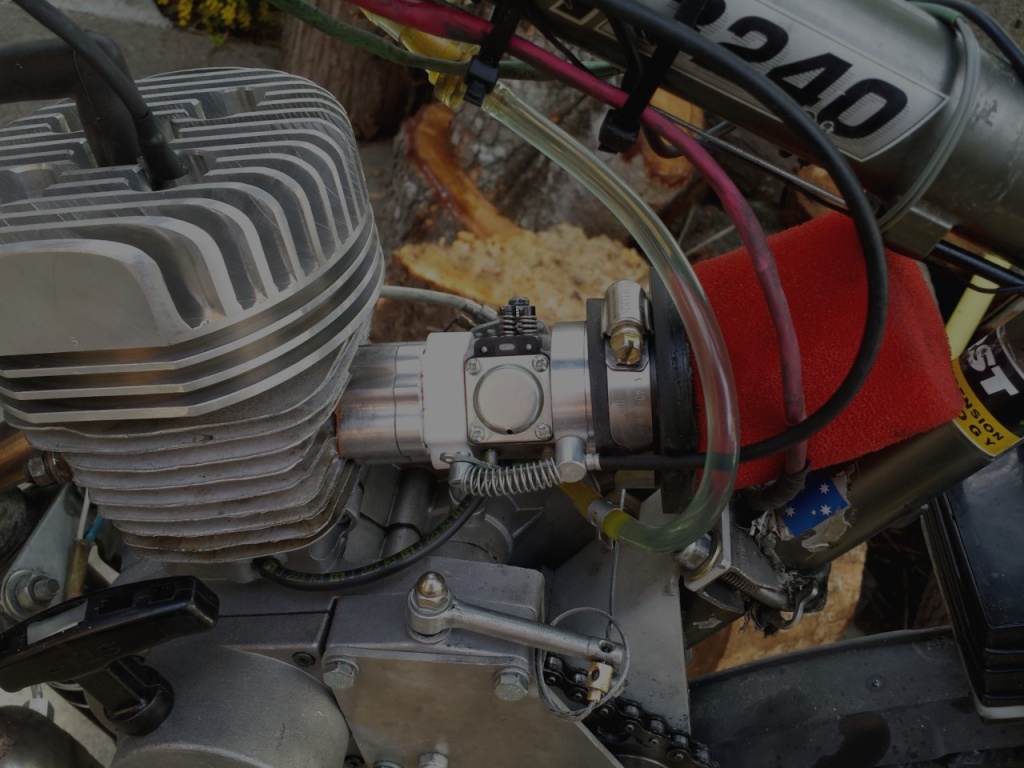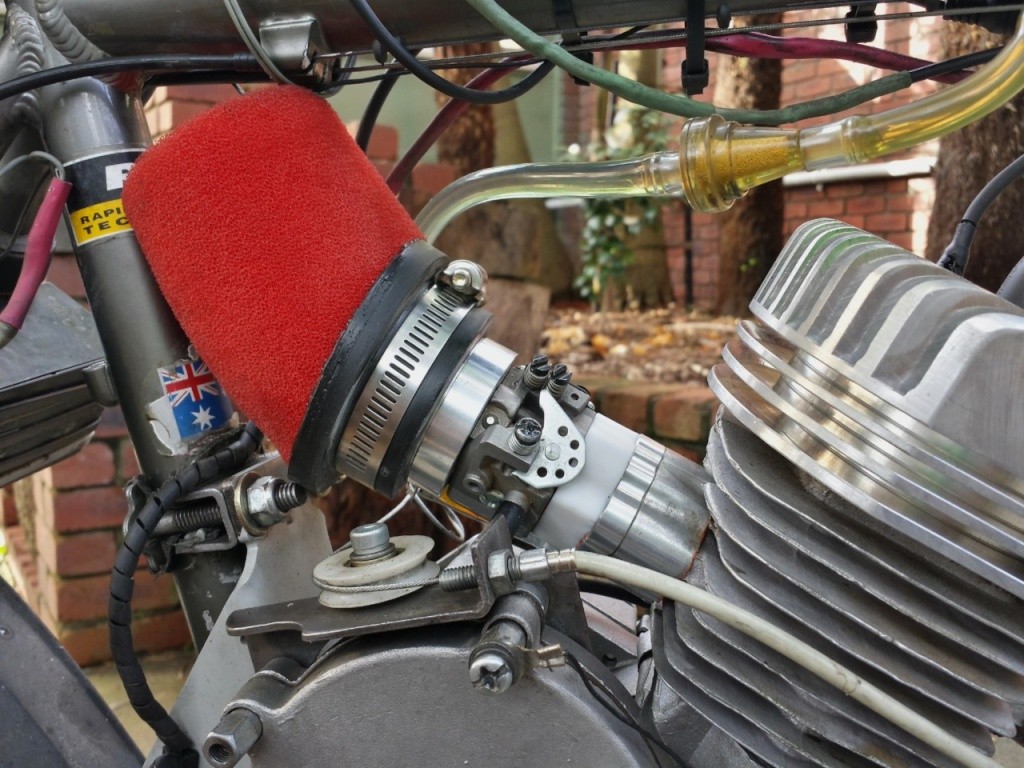 Walbro style (diaphragm) carburettor needle setting
Although the needle settings depicted in the photos work well at 25:1 with Australian 98 octane fuel, the low speed and high speed settings may require fine tuning; as fuel composition and octane rating may be different in your location, not to mention variance in atmospheric conditions.
The diaphragm carburettor seems to give best results with the low speed needle set very rich, which makes for clean & crisp transition (from idle rpm) when rapidly snapping the throttle to wide open position.
Because of this (idle) rich condition the idle speed adjustment screw needs to be fully wound-in (as depicted in the photos) to enable an acceptable idle speed.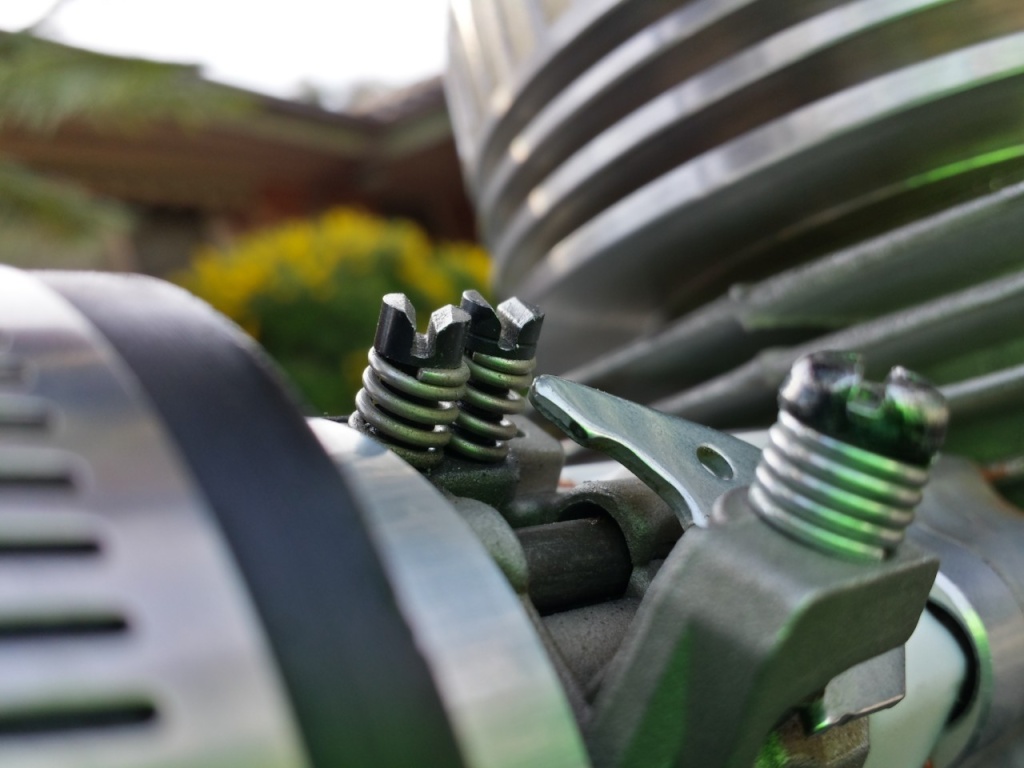 Last edited by Fabian on Sun Dec 21 2014, 02:29; edited 69 times in total

Fabian

MxBF Power User




Posts

: 338


Reputation

: 3


Birthday

: 1970-09-03


Join date

: 2011-06-08


Age

: 47



It looks real nice. What's it do?

I've read that reed valves don't help performance much on our little china girl motors unless you do a lot of very extensive sounding port work.

biknut

Newbie




Posts

: 14


Reputation

: 0


Birthday

: 1953-11-21


Join date

: 2012-07-16


Age

: 64


Location

: Dallas



It all depends what kind of performance you are looking for.

A reed valve intake will give little improvement if wanting maximum horsepower; running the engine at high rpm; sacrificing low and midrange torque with an expansion chamber designed to suit the high rpm power curve of a ported cylinder.

Outside of that scenario, a reed valve intake makes significantly more low and midrange torque, enabling you to use lower rpms for the same road speed; reducing noise as well as reducing vibration; making the riding experience a much more pleasant experience with the broader torque curve of a reed valve intake system.



Fabian

MxBF Power User




Posts

: 338


Reputation

: 3


Birthday

: 1970-09-03


Join date

: 2011-06-08


Age

: 47



I see. That doesn't sound too bad. I'm looking forward to your report about how it runs after you get it installed.

biknut

Newbie




Posts

: 14


Reputation

: 0


Birthday

: 1953-11-21


Join date

: 2012-07-16


Age

: 64


Location

: Dallas



My bike has been fitted with, and has run (for nearly 12 months) with the NT carburettor attached to a standard reed valve intake from Rock Solid Engines.

You must make a significant jetting change with a reed valve intake, as explained in my previous post on the subject, and it's where most people come undone as they don't rejet, or fail to rejet correctly; then whinge and moan about a reed valve system being no good.

Once you are in the butter zone, the reed valve makes substantially more low and midrange torque, so much so, that i would never consider going back.

The new diaphragm carburettor will not make any more power than the NT carburettor, because the laws of physics determine how much air can be drawn through a 14 or 15mm hole.
The big advantage of the diaphragm carby is that the air/fuel ratio can be adjusted with a simple twist of low and high speed needle screws; taking the best part of 10 seconds (which is great if atmospheric conditions change significantly from one day to the next), rather than having to mess around with the NT or Dellorto carburettor; pulling it to pieces; endlessly fiddling around with jets and needle height adjustment, till you hit the sweet spot, which can take hours instead of seconds.

A diaphragm carburettor is the logical choice for a plug and play system!




Fabian

MxBF Power User




Posts

: 338


Reputation

: 3


Birthday

: 1970-09-03


Join date

: 2011-06-08


Age

: 47



---
Permissions in this forum:
You
cannot
reply to topics in this forum